How to Fill Central Bank of India (CBI) Cheque
How to Fill Central Bank of India (CBI) Cheque
What is Cheque?
A cheque (British English) or check (American English; see spelling differences) is a document that orders a bank to pay a specific amount of money from a person's account to the person in whose name the cheque has been issued. The person writing the cheque, the drawer, has a transaction banking account (often called a current, cheque, chequing or checking account) where their money is held. The drawer writes the various details including the monetary amount, date, and a payee on the cheque, and signs it, ordering their bank, known as the drawee, to pay that person or company the amount of money stated. (Source-Wikipedia).

Today I will show you how to fill Central Bank of India (CBI) Cheque in very easy steps.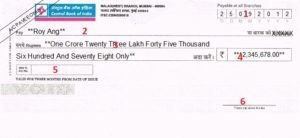 Follow the number notations to avoid any mistakes as we know any small mistake in filling rejects your cheque.
Fill carefully
Mention the date (example.-for mentioning 2 May 2017 write 02052017)

Write the name of the person whom you are paying the cheque. If you want to withdrawal for yourself then simply write "Self" or write your name.

Write amount of money you want to withdrawal in words ( For example- To write Rs 10000, write-Ten Thousand Only)

Write amount in number(numeral value), (For example-10000/-)

Mention your account number.

Put your signature here. Be careful while doing this, don't make any mistake. It should be clear and exact.

At last, put one or two signature at back side of the cheque so that bank official can verify easily.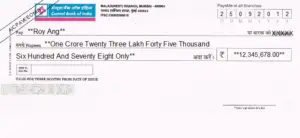 About Central Bank of India (CBI)

–

Central Bank of India, a government-owned bank, is one of the oldest and largest commercial banks in India. It is based in Mumbai which is the financial capital of India and capital city of state of Maharashtra. The bank has 4730 branches, 5319 ATM's and 4 extension counters across 27 Indian states and three Union Territories. At present, Central Bank of India has overseas office at Nairobi, Hong Kong and a joint venture with Bank of India, Bank of Baroda, and the Zambian government. The Zambian government holds 40 per cent stake and each of the banks has 20 per cent. Recently it has also opened a representative office at Nairobi in Kenya. (Source-Wikipedia)
Thanks for Reading.
Feel free to ask any question.
Please comment below, if you have any suggestion.
Related Post :