Download PowerPoint Presentation on Moonlighting Enzyme
Download PowerPoint Presentation on Moonlighting Enzyme
Hello Everyone! Today in the series of PowerPoint Presentation, we have come up with Moonlighting Enzyme Presentation. Moonlighting Enzyme presentation is made by one of the student by taking help from different sources. We have also made download link for this presentation so that you can understand the thing in more better way. Hope you will enjoy this presentation. Read the complete post-Download PowerPoint Presentation on Moonlighting Enzyme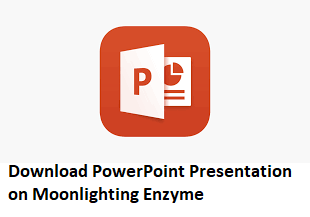 MOONLIGHTING ENZYME
First moonlighting means: as some people's work day time as well as at night so with reference to this the term moonlighting was developed. Like this in biological system also some enzymes are there that can perform two or more functions i.e its primary function and moonlighting functions and it is due to multiple RNA splice fragments . The term moonlighting protein or enzyme was developed by JEFFERY in 1999.Example of moonlighting proteins are enzymes, receptor factors and many more.Till date 300 moonlighting enzymes are discovered.
Read More
Moonlighting protein was came from evolution, this can be said because before evolution there was no such protein was there that can perform multiple functions but after evolution such type of protein came and the unifunctional protein gained the ability to perform multiple functions. And it has been seen that the evolution is favourable to organisms. There are various proteins that are involve in different biochemical pathways like in glycolysis there are several proteins that can perform multiple functios and known as moonlighting proteins same like various enzymes are involve in kreb's cycle and like this there are many other enzymes that serves as connections between various biochemical pathways.
Some Moonlighting protein involved in glycolysis:-
Hexokinase :
Hexokinase is an enzyme that phosphorylates hexose,forming hexose phosphate. It converts glucose into glucose – 6- phosphate.
Its primary function is that it involve in glycolysis metabolism and its moonlighting function is signalling to regulate growth and development in plants.
2. Phosphofructokinas-1:
Phosphofructokinase 1 is an important step of glycolysi that convert fructose-6-phosphate to fructose-1,6-bisphosphate.
Its primary function is that it involve in glycolysis and its moonlighting function is autophagy peroxisome.
Some Moonlighting protein involved in Kreb's cycle:-
1) Aconitase:
It is an iron-sulphur protein that convert citrate into isocitrate via aconitase.
Its primary function is it involve in kreb's cycle and moonlighting functions in different organisms are: iron homeostasis, mt DN stabilit, and iron responsible.
This are some of the enzyme that perform moonlighting function and many more are there.
Download PowerPoint Presentation on 
Moonlighting Enzyme
Enjoy Complete PowerPoint Presentation Here: Moonlighting Enzyme
Please comment below, if you have any doubt.
Thanks for Reading
Keep Visiting: Jugaruinfo