How to Factory Reset Your Android Phone or Tablet (Updated)
How to Factory Reset Your Android Phone or Tablet
Are your phone suddenly stopped working or responding? Is your phone stuck or hang? Sometime it may be there even after restart, problem don't get sort.  In many serious cases, factory reset is the last option that saves us. We will be sharing two ways How to Factory Reset Your Android Phone or Tablet in two methods. Select any method according to the problem you are having with your phone. If you are able to use your phone but getting some error or hang problem then go for Method 1. If you are fully stuck with your phone and not able to even switch on, then go Method 2. Read complete post to know in details.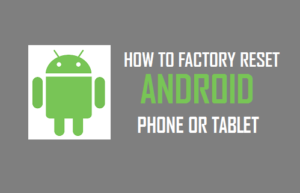 How to Factory Reset Your Android Phone or Tablet
How to Factory Reset Your Android Phone or Tablet from the Setting Menu
Follow these steps:
Go to Setting of your phone

Factory Reset Option

Follow: Setting—Backup and Reset—Factory Data Reset

Factory Data Reset

Click on "Factory Data Reset" and select "Reset Phone" option

Reset Phone

Next, you will be ask to enter your pass code for erasing everything.
After entering pass code, select option to reboot.
That's all. You can restore your phone's data. Wait for 4-5 minutes.
Method 2
How to Factory Reset Your Android Phone or Tablet in Recovery Mode
Follow these steps:
Switch Off/ Turn Off your phone or tablet
Next, hold simultaneously both Volume Down Button and Power Button until phone turns off
Now, you will see Start word, then you press Volume Down Button until Recovery Mode message gets display
Next press the Power Button to enable recovery mode until you see Android Robot Symbol
Now you are in Recovery Mode, press and hold Power Button and in between press Volume Up Botton once then leave Power Button
Press Volume Down until Wipe Data/ Factory Reset comes then presses Power Button to select it.
Next, again press Power Button to select Reboot System now
Finally, you can restore phone's data.
Suggestion: Remove your memory card/SD card during factory reset so that all your personal files will be save.
Note: Factory Reset does not delete any preinstall apps. Only apps that were install by you will be erase.
Thanks for Reading.
Feel free to ask any question.
Please comment below, if you have any suggestion.
Keep Visiting: http://jugaruinfo.com/