Things You Must Have In Your First Aid Box
Things You Must Have In Your First Aid Box
Hello! Everyone knows about first aid and have used it but when question comes what are different things it should contain, maximum of us forgot one or other. It is very important that at least we keep most important items in it. So we have made here a list of all the items that must have in a first aid box. Be sure to keep this things. Read complete post-Things You Must Have In Your First Aid Box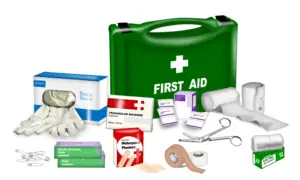 A first aid kit is a collection of supplies and equipment that is used to give medical treatment. There is a wide variation in the contents of first aid kits based on the knowledge and experience of those putting it together, the differing first aid requirements of the area where it may be used and variations in legislation or regulation in a given area.
First aid kits can be assembled in almost any type of container and this will depend on whether they are commercially produced or assembled by an individual. Standard kits often come in durable plastic boxes, fabric pouches or in wall mounted cabinets. The type of container will vary depending on purpose, and they range in size from wallet sized through to large rucksacks.
It is recommended that all kits are in a clean, waterproof container to keep the contents safe and aseptic. Kits should also be checked regularly and restocked if any items are damaged or are expired out of date. (Source-Wikipedia)
Things You Must Have In Your First Aid Box
Here is the list of different items that should be there in First Aid Box. It's important to have First Aid box so you can deal minor and small accidents. It should be kept in a cool place and place out of children.
Plasters in a variety of different sizes and shapes

Plasters In Different Shapes
Different sizes sterile gauze dressings

Sterile Gauge Dressings
2-3 Eye dressings

Eye Dressings
3-4 Bandages

Bandages
Safety Pins

Safety Pins
Disposable Gloves

Disposable Gloves
Scissors

Scissors
Tweezers

Tweezers
Cleansing Wipes

Cleansing Wipes
Sticky Tape

Sticky Tape
Thermometer

Thermometer
Skin Rash Cream

Skin Rash Cream
Spray or cream to relieve instant pain

Spray or cream to relieve pain
Antiseptic Cream

Antiseptic Cream
Painkillers

Painkillers
Cough Medicine

Cough Medicine
Distilled Water

Distilled Water

Thanks For Reading. If you have any suggestions, please comment below.
Keep Visiting: https://jugaruinfo.com/